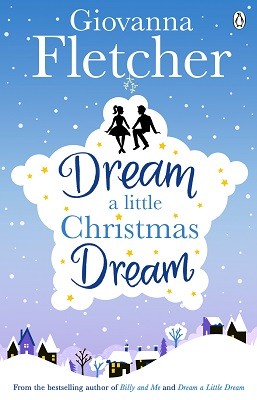 Sarah's life is great.
Okay, her dreams might still be totally bananas, but her real life is definitely back on track. She's got a fantastic job, amazing friends and she's planning on spending all Christmas wrapped up with Brett, her handsome boyfriend.
But after another night of increasingly bizarre dreams, Sarah wakes to find her lovely housemate suddenly announcing she's moving out. Then later that same day, Brett begins to act strangely. It's clear he's hiding something – but what?
Soon Sarah can't help but wonder if she's living out her own festive nightmare. Will any of her dreams come true in time for Christmas?
Publisher:

Penguin Books Ltd
Giovanna Fletcher is back with a new novella which follows on from her summer novel, Dream a little Dream. Although it is a follow on, I am sure readers will love it if they pick it up as an introduction to Fletcher's fantastic reads. There are references to the novel and it is great to return to these characters and the plot is a great one.
I love Fletcher's writing style. She is one of those authors who I have seen on the television and love her humour and she is able to capture this and weave it throughout her written work. There are definite laugh out loud moments within Dream a little Christmas dream, and add to those a few places where I may have shed a little tear and the book is complete.
I am already looking forward to Giovanna's next release - although I know she is expecting a second child, so sending lots of good wishes for baby number two and I hope the next release will be out later in the year.