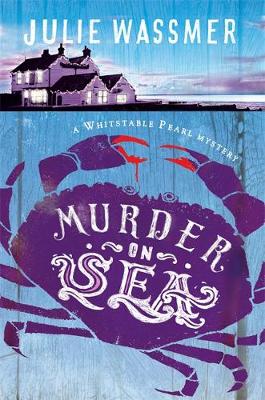 It's not the season of good will to all men...The festive month is kicking off in style and Pearl is rushed off her feet with her restaurant, The Whitstable Pearl. She's also busy planning her own family Christmas and providing mulled wine for a charity church fundraiser when Christmas cards begin arriving all over town - filled with spiteful messages from an anonymous writer. Pearl's curiosity is piqued but having pledged not to take on a case at her detective agency before Christmas, she reluctantly agrees that Canterbury's DCI Mike McGuire should take over; poisoned pen cards are after all a matter for the police. And with only the church fundraiser now between Pearl and Christmas, she invites McGuire along as her guest. The event appears to be a great success; St Alfred's church hall is packed and Pearl happily finds herself standing close to McGuire beneath some mistletoe ...but then a guest suddenly collapses. Too much of Pearl's delicious mulled wine - or could it be something more sinister? The last thing Pearl expects for Christmas is murder but soon the bodies are piling up. Can Pearl possibly solve the mystery in time to make 25th December an unforgettable day - or will the murderer contrive to ensure her goose is well and truly cooked before then?
Publisher:

Little, Brown Book Group


ISBN:

9781472119124



I am a big fan of Agatha Raisin and Rebecca Tope and the 'cosy crime' genre and so was excited when I was introduced to Julie Wassmer.
This is the second book in the new series featuring Pearl, a private investigator and after reading this book i will be finding the first book,

The Whitstable Pearl Mystery, to be introduced properly to Pearl and her new business.
This is one of those books that the reader can curl up with on a lazy weekend and loose yourself in. It is well written and Wassmer drip feeds the reader with clues throughout the story before the concluding chapter revealing the completed crime. Quite often with this genre of books the author allows the reader to solve the crime before it is revealed, however this book kept me guessing until the last moment.
I really liked Pearl and there were a number of supporting characters who brought the story to life, including Pearl's mum adding humour and warmth to the story.
This was my first festive book of the year and it was a great one to start with, the setting and the descriptive writing has started my festive preparations perfectly.
I really enjoyed this book and will be looking forward to investigating another crime with Pearl soon.
Thank you to the publishers for the opportunity to take part in the tour and a copy of the book in return for an honest review.