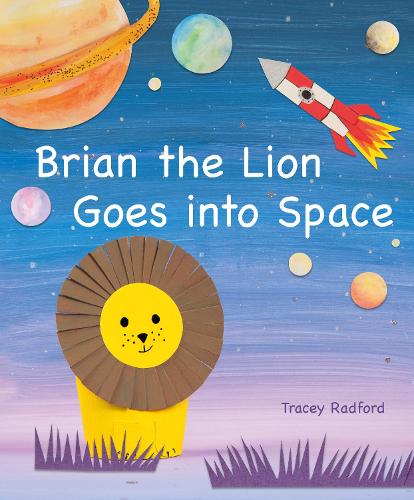 A rhyming picture book about a lion called Brian who goes on a space adventure.
Brian the lion is tired of hanging out with his pride - all they do is sleep all day long. While they snooze, Brian gazes at the stars, dreaming of going into space. He can't believe it when his loved ones, tired of his moaning, present him with a DIY rocket so that he can fulfil his dream. Zoom - he's off! After looping the loop, Brian soon lands on a moon near Saturn and meets small green gnomes who make him rainbow-coloured food and speak in a strange language, and their dragon Norris. Though things are exciting for a while, Brian is soon missing home, even the boring bits. What will Brian do? Will he stay in his new space home or return to his pride? Featuring one of craft expert Tracey Radford's adorable animal creations, Brian the Lion Goes into Space is a sweet tale, with a wonderful moral message, that will be loved by young children.
Publisher:

Ryland, Peters & Small Ltd


ISBN:

9781782495765
Brian the Lion Goes into Space is a lovely story book to share with children. The story is written in clear bold text and is written in rhyming verse. The thing that drew me to the book was the pictures. They are all photographed scenes using simple crafted pieces and props that could be used as ideas for crafty rainy day projects or for book related crafty pieces at children's play and craft sessions. For instance, Brian the Lion is made up of simple shapes of card stuck together to make a lion with a big brown mane, the grass is green card cut into spiky strands. The caves are paper covered paper mache/ play dough structures and the gnomes are made of toilet rolls and cotton wool. It all adds to the appeal of the book to me and I wish that I still ran toddler play sessions so I could recreate some of the scenes myself. Many of the creations are included in the book Make Your Own Zoo by Tracy Radford
I received this book from the publishers, Cico Kidz in return for an honest review.