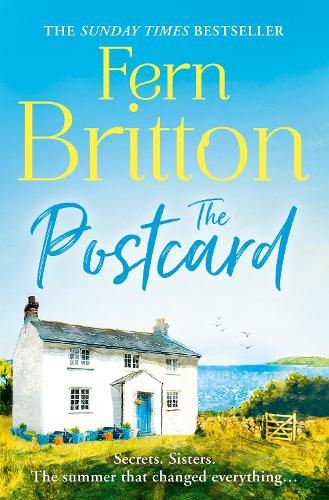 The new witty and warm novel from the Sunday Times best-selling author and TV presenter, Fern Britton. Secrets. Sisters. The summer that changed everything ...Life in the Cornish village of Pendruggan isn't always picture perfect. Penny Leighton has never told anyone why she's estranged from her mother and sister. For years she's kept her family secrets locked away in her heart, but they've been quietly eating away at her. When an unwelcome visitor blows in, Penny is brought face to face with the past. And a postcard, tucked away in a long-hidden case, holds the truth that could change everything. Young Ella has come back to the place where she spent a happy childhood with her grandmother. Now she's here to search for everything missing in her life. Taken under Penny's broken wing for the summer, the safe haven of Pendruggan feels like the place for a fresh start. Soon, however, Ella starts to wonder if perhaps her real legacy doesn't lie in the past at all.
Publisher:

HarperCollins Publishers
ISBN:

9780007562992
I was a big fan of Fern Britton when she burst on to our screens on Ready, Steady, Cook and then when she hosted ITV's This Morning and I remember collapsing with laughter and wiping away tears on numerous occasions as she presented the show and I when she announced she was turning her hand to writing novels I hoped that she would be able to carry her bubbly, but also sensitive manner to this new profession, and I am really pleased to say she has. The Postcard is Fern Britton's seventh novel (she has also written two short stories) and I have really enjoyed all of her novels and The Postcard is one of her best yet.
As with all of Fern's books, The Postcard is set in her favourite county of Cornwall and although I have never been to Cornwall I always feel like I am walking through the lanes and across the beaches along with the characters. The characters are all fantastic and I really liked the village spirit and camaraderie that is shown throughout the book. I really liked that the main characters was the vicar's wife and that she was not the traditional vicar's wife but one who is modern, not too keen on people constantly visiting the vicarage, wanting to be nosy into their life and expecting her to drop everything for her husband's flock!
I also really liked the support cast, the vicarage new neighbours are brilliant and I really liked the mystery surrounding them when they first arrived but they soon become part of village life.
Although this is a standalone book I would like to revisit the characters and see how Penny and her step sister's relationship has progressed.
This is one of those books that would be great to slip into your holiday luggage to read on the plane or the beach or to sit in the garden on a long summer evening.
Thank you to the publishers, Harper Collins, for inviting me to take part in this blog tour and I am already looking forward to what Fern writes next.