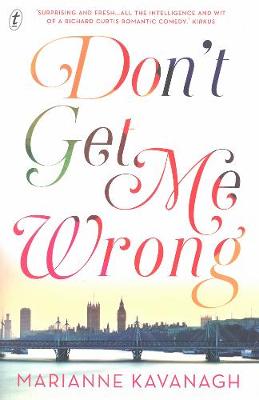 For fans of Jojo Moyes, David Nicholls and Sophie Kinsella, here is a Pride and Prejudice for the modern era.
Londoners Kim and Harry can't see eye to eye…until the life of the person they both love most hangs in the balance.
Kim has never grasped what her free-spirited big sister Eva sees in a stuck-up banker like Harry and has spent her childhood trying to keep him out, while Harry's favourite occupation is winding Kim up.
Both Harry and Kim are too trapped in their prejudices to care about what's really going on beneath the surface of each other's lives. They'll never understand each other—until the worst of all tragedy strikes.
Faced with the possibility of losing the person they both love most, long-buried secrets come to a head in ways that will change both Harry and Kim forever.
Marianne Kavanagh is a former deputy editor of Marie Claire and has contributed to a wide variety of newspapers, magazines, and websites, including the Telegraph, Daily Mail, Guardian, My Daily, Easy Living and Red. Her debut novel, For Once in My Life, was published in 2014. She lives in London.
Praise for For Once in My Life
'Kavanagh's novel is superior chick lit: beautifully written, enlivened by witty and wise observation.' Age/Sydney Morning Herald
'[A] witty, summer-fresh debut.' Independent
'This book is fantastic. It's hilarious, poignant and profound by turns; most of all, it's unpretentious. Unlike so many novels it just wants to tell you a lovely story. It's not about how clever the author is nor is it all style over substance. But precisely because of that it's both clever and stylish anyway... Adorable.' Daily Mail
'The charming and summery first novel from columnist Marianne Kavanagh. This human story of love's near-misses centres around Tess and George, whose eventual (inevitable) meeting is cleverly delineated to call sentimental notions of soul mates into question.' Vogue
'Kavanagh gives the reader plenty of humour…Her descriptive prose is wonderful.' BookMooch
I found this book a slow starter. It took me a number of chapters to 'get into' the book, however one I was a third into the book it suddenly captured my interest and I was hooked.
I found the characters believable and I was able to empathize with Kim from the start. Although the story-line was predictable, there were twists and turns littered throughout the book which kept me guessing to the end and made the story more enjoyable.
I like Kavanagh's writing style - the prose is littered with humorous moments which are often used to describe scenes within the story. They fit in well within the story and add dimension to the scenes.
I would recommend this book to anyone wanting a good, easy going read with great characters and a believable story-line.
Thank you to the publishers, Text Publishing and their marketing team for sending me the book to review.