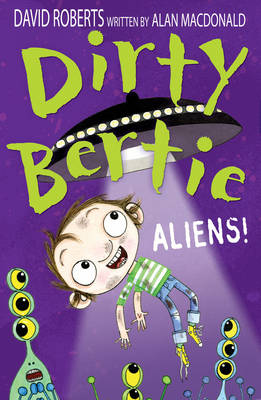 Calling all Dirty Bertie fans! Dirty Bertie - the boy with nose-pickingly disgusting habits - is back for another helping of comic chaos! With ever-increasing madcap schemes and crazy capers, Bertie continues to delight his legions of fans who revel in his revolting ways. Join Bertie in Aliens! his 26th adventure, as he prepares for an alien invasion, has a go at bird watching and tries to improve his school report! Dirty Bertie is a hugely popular series created by award-winning illustrator, David Roberts (Tyrannosaurus Drip, The Wind in the Willows, The Troll, Eddie Dickens Trilogy). With each hilarious story approximately thirty pages long and split into chapters with illustrations on nearly every spread, Dirty Bertie is ideal for confident readers to enjoy by themselves, or for sharing with your child.
Publisher:
Little Tiger Press Group
This is the twenty sixth book in the popular Dirty Bertie series of books. Dirty Bertie is a lovable little boy, who has nose-pickingly disgusting habits, who children adore reading about. Each book contains three stand alone stories and tell the tales of Dirty Bertie at his disgustingly worst.
Aliens tells the story of Bertie as he visits the local library to listen to a talk about UFO's and which leaves Bertie certain he has met with real aliens!
These books are perfect for young readers, who are developing their reading skills, and are wanting more than basic story picture books. The three stories within each book are split into manageable chapters which are perfect to be shared at bedtime or for a child to read themselves. There are a number of illustrations throughout the book which break up the text but leave the young readers proud that they have read a 'proper' book.
Dirty Book is a great character which is loved by both girls and boys alike and I remember my son falling in love with reading through both Dirty Bertie and Horrid Henry. For young girls who like these sort of characters, David Roberts and Alan MacDonald have also written books about Angela Nicely too.
I received this book in return for an honest review from the publishers, Stripes Books.