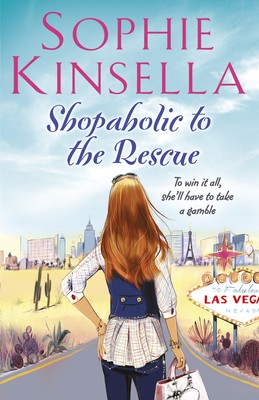 To Las Vegas...and beyond! Becky Brandon (nee Bloomwood) is on a major rescue mission! Hollywood was full of surprises, and now she's on a road trip to Las Vegas to help her friends and family. She's determined to get to the bottom of why her dad has mysteriously disappeared, help her best friend Suze and even bond with long-time enemy Alicia Bitch Long-legs (maybe...). As Becky discovers just how much her friends and family need help, she comes up with her biggest, boldest, most brilliant plan yet! So can she save the day just when they need her most? Becky is setting out to make things right in this laugh-out-loud, feel-good conclusion to her American adventure that beglan with Shopaholic To The Stars.
Publisher:

Transworld Publishers Ltd


ISBN:

9780593074626
I have read all of the Sophie Kinsella's Shopaholic series and have enjoyed them, however I am beginning to feel that the series has run its course and over the past two-three novels I have found that the enjoyment is beginning to fade.
At the end of the last book, Shopaholic to the stars, Becky Brandon was begininng a road trip to find her father and best friend's husband, who they fear may have been brainwashed by a Hollywood sect. This book follows them on this road trip and in true Becky Brandon style things don't go quite according to plan.
What I did like in this book was that Becky is beginning to 'act her age' and is not the centre of attention - there are times in the book where she has the oppurtunity to spend, spend, spend but she doesn't and is beginning to retalise that other things are more important. I would like to see if Kinsella continues with this new way of thinking for Brandon and takes her down the family route - as her daughter is definitely taking over the Becky Brandon mantal!
Kinsella is a fantastic writer and I do enjoy reading her books, although I would love to see her write more of her standalone novels and leave Becky Brandon on the shelf for a few years.
Thank you to the publisher, Transworld Publishers, for sending me the book to read in return for an honest review.