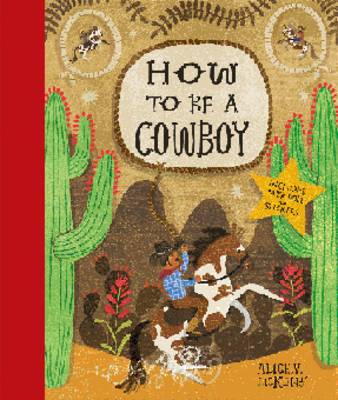 The ultimate guide to becoming a cowboy. This activity book contains maps of the cowboys' favourite stomping grounds, a dress-your-own-cowboy paper doll (with cut-out clothes, colonial spurs, woollies and batwing chaps), a talk-like-a-cowboy guide, a sheet of super-cool stickers, and real-life cowboy recipes to try cooking at home. And for when you're ready to become a cowboy, you can pick and choose your own ranch name. Beautiful illustrations and fun activities from illustrator Alice Lickens, who was awarded the prestigious Sendak Fellowship in 2012, make this an exquisite gift book to treasure, ideal for aspiring cowboys and cowgirls of all ages from 3 to 83.
Publisher:

Pavilion Books


ISBN:

9781843652410
Firstly, I feel that I must make a confession, I love anything to do with cowboys! As a teenager I spent my weekends at Country and Western events and loved the history, the attire and regalia. And now back to the book - I loved it!
Lickens has created a fantastic book, filled with history, geography and fashion lowdown, teaching you how to walk, talk and dress like a cowboy and all accompanied by lots of related craft activities. There is a good old fashioned paper cowboy doll to dress and recipes to try.
The book is interactive - there are paper dolls to pop out, stickers to decorate the pages or other media, pages to open out to discover hidden facts and lots of fun activities to try.
I really do love this book - it would be a great gift to give to a child but is also one that would be a good starting point for any school project on the Wild West. I hope that the author, Alice Lickens, continues with this fantastic format to publish more books on different topics in the future. The illustrations are briliant - Licken has a distinctive style which I think would be great on stationary or decor for walls (oh and I would love to own a pair of cowboy boots designed by Licken).
I received this book in return for an honest review from the publishers, Pavilion Books.