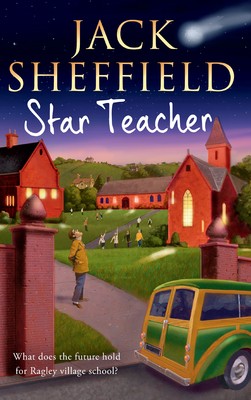 It's 1985, and as Jack returns for another year as headteacher at Ragley village school, some changes are in store. It's the year of Halley's Comet, Band Aid, Trivial Pursuit, Dynasty shoulder pads, Roland Rat and Microsoft Windows. And at Ragley-on-the-Forest, Heathcliffe Earnshaw decides to enter the village scarecrow competition, Ruby the caretaker finds romance, and retirement looms for Vera the secretary. Meanwhile, Jack has to battle with some rising stars of the teaching profession to save his job and his school...Readers love Jack Sheffield: "Wry observation and heart-warming humour in equal measure." (Alan Titchmarsh). "Overflowing with amusing anecdotes." (Daily Express). "Amusing adventures at the North Yorkshire village school." (Choice). "Jack Sheffield's in a class of his own." York Press).
Publisher:

Transworld Publishers Ltd


ISBN:

9780593075067
I have read and loved every one of this series and each year look forward to dipping back into the lives of Ragley village school and reminisce about years gone by.
Star Teacher takes us back to 1985 and it is another jam packed school year for Jack and his pupils and staff. The book is a mixture of both fact and fiction and Sheffield's clever storytelling makes the book a great piece of social history. The storyline is full of a cast of village residents from the very young to the very old, each of whom has their own backstory and who readers might recognise in their own families or neighbours.
One thing I love about these books is the attention to detail. They are a walk through history, in this book alone Halley's Comet, Band Aid, Trivial Pursuit, Roland Rat and Microsoft Windows are introduced and the villagers all have their own views and concerns which are similar to those felt by many at the time.
The school children of Ragley village school are fantastic - the dialogue the children have throughout the book is priceless, out of the mouth of babes ...... There are some great one liners which leave the readers laughing out loud on many occassion.
This book, similar to others, leave the readers on a knife edge - the beginning of the next book is going to be one I am going to be itching to read,I want to know where Jack goes next but as they are usually released around the last quarter of the year, I still have a long time to wait - however readers who are discovering Ragley for the first time have plenty of time to catch up on the history of the school.
Another fantastic book by Sheffield and a series I continue to recommend to all who love a good series to loose themselves in.
Thank you to the publishers for sending me the book to review in return for an honest review.