Mark Billingham is one of my very favourite crime authors and his latest release, Love Like Blood, sees his books just getting better and better. It is a definite must for crime lovers this summer.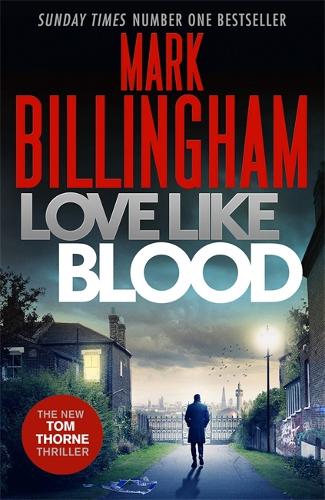 A BLOODY MESSAGE As DI Nicola Tanner investigates what appears to be a series of organised killings, her partner Susan is brutally murdered, leaving the detective bereft, and vengeful. A POWERFUL ALLY Taken off the case, Tanner enlists the help of DI Tom Thorne to pursue a pair of ruthless killers and the broker handing out the deadly contracts. A CONSPIRACY OF SILENCE As the killers target their latest victim, Thorne takes the biggest risk of his career and is drawn into a horrifying and disturbing world in which families will do anything to protect their honour. From number one bestseller Mark Billingham comes a masterful, intense crime novel that pits DI Tom Thorne against an evil beyond comprehension, yet shockingly real.
Publisher:

Little, Brown Book Group
ISBN:

9780751566888
Mark Billingham's books feature the very popular DI Tom Thorne and this is the fourteenth book in the series. Die hard fans will have read all of them, however new readers will be able to pick up this book and delve straight in and be in awe of DI Tom Thorne.
Tom Thorne is reunited with DI Nicola Tanner, who he met in Die of Shame as she is trying to find out who killed her lover, who she believes was killed instead of herself, due to becoming too close to solving a crime.
The storyline is brilliant and as with Mark's earlier book, the reader is lead on a trial which sees Thorne get deeper and deeper into the case, which is at times tough, as it involves honour killing across the religions where the modern world overtakes past beliefs. There is lots of great content and it gives the reader an insight into these homes where the younger generation are determined to make their own choices and not agree to those of their parents.
As with all of Mark's books, the reader makes many decisions about who is behind it all and what they believe to have happened but Mark always leaves a big surprise to the end and I was definitely not expecting this one!
Love Like Blood is definitely Mark Billingham's best book yet and I hope my blog readers enjoy it as much as I have.
Thank you to the author and Little Brown for inviting me to take part in this blog tour.