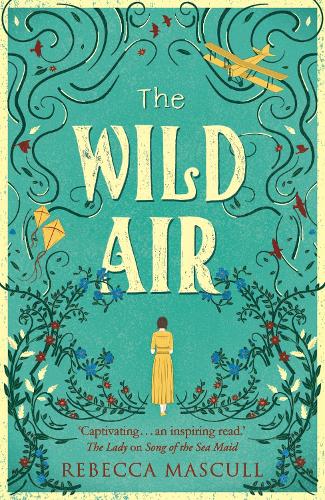 In Edwardian England, aeroplanes are a new, magical invention, while female pilots are rare indeed. When shy Della Dobbs meets her mother's aunt, her life changes forever. Great Auntie Betty has come home from Kitty Hawk, North Carolina, across whose windswept dunes the Wright Brothers tested their historic flying machines. Della develops a burning ambition to fly and Betty is determined to help her. But the Great War is coming and it threatens to destroy everything - and everyone - Della loves.Uplifting and page-turning, THE WILD AIR is a story about love, loss and following your dreams against all odds.
Publisher:

Hodder & Stoughton General Division


ISBN:

9781473604438
I have always been a fan of Rebecca Mascull's books and I know that I am in for a good read with scenes where I get lost in the moment and The Wild Air, Rebecca's third novel, again transported me to Edwardian England where planes are taking the world by storm and there are, of course, mixed feelings about these new machines. The Great War is approaching and female pilots are increasing in number.
I really enjoy Rebecca's writing style and as I previously said, I was transported into Edwardian England and I found myself liking the characters within this book. I really liked the characters of
Adeliza, Della and Dawnay and enjoyed their wit along with their flamboyant style of speech.
I think this book is a great tribute to the world's first female pilot and I am in real awe of the ladies who made this possible.
Thank you to the publishers, Hodder and Stoughton, for inviting me to take part in this blog tour.