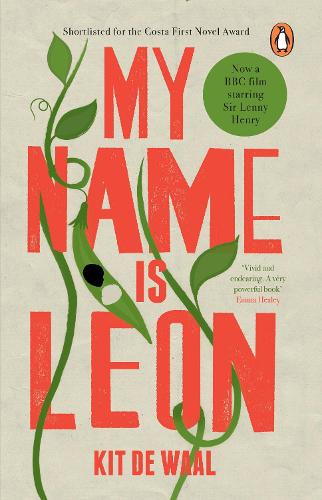 **A TIMES and INTERNATIONAL BESTSELLER** **SHORTLISTED FOR THE COSTA FIRST NOVEL AWARD 2016** A brother chosen. A brother left behind. And a family where you'd least expect to find one. Leon is nine, and has a perfect baby brother called Jake. They have gone to live with Maureen, who has fuzzy red hair like a halo, and a belly like Father Christmas. But the adults are speaking in low voices, and wearing Pretend faces. They are threatening to give Jake to strangers. Since Jake is white and Leon is not. As Leon struggles to cope with his anger, certain things can still make him smile - like Curly Wurlys, riding his bike fast downhill, burying his hands deep in the soil, hanging out with Tufty (who reminds him of his dad), and stealing enough coins so that one day he can rescue Jake and his mum. Evoking a Britain of the early eighties, My Name is Leon is a heart-breaking story of love, identity and learning to overcome unbearable loss. Of the fierce bond between siblings. And how - just when we least expect it - we manage to find our way home.
Publisher:

Penguin Books Ltd


ISBN:

9780241973387
'My Name is Leon' is one of those books that once read, are never forgotten. It is a beautifully written book which is all about Leon, an nine year old boy who, along with his baby brother, is fostered out, after his mum has an emotional breakdown. Leon has always been the main carer for his brother, and when Social Services decide that it is better for the brothers to be separated, finds it difficult to accept that he is a boy who should be looked after himself. The book is a great insight into the mind of a young boy who looses everything important to him, including his prized possessions of the Action Man figures he received as a present, his young brother and his mother who, although he should of felt resentment towards her for not looking after them both, was worried about her. It is also a great piece of social history, with the marriage of Prince Charles and Lady Diana Spencer, the riots and also the issues of being an Afro-Carribean person living in Great Britain during the time.
The story is told by nine year old Leon and his childish view of the world is a very clever way to tell this story. The things that are important to Leon, his Action Men figures, Curly Wurlys, the one photograph of his young brother are throughout the story and added to the freedom Leon has through the bike his Social Worker gifts to Leon all give a small insight to how Leon is feeling and what he feels unable to express through his conversations with others.
This is a relatively short book, however it is a very thought provoking story which I am sure would be perfect as a book group read. There are many issues and themes which lend themselves to in depth conversations between fellow readers. The book also gives an insight into the fostering and adoption process and gave me much to think about in relation to the issues concerning this.
I recommend this book to anyone who wants a book that stays with them long after they have read the last paragraph, however I do recommend that you have some tissues to hand as there are a few heart breaking moments within the book.
Kit De Waal, the author is taking part in the Unbroken Voices panel event at Chipping Norton Literary Festival on Saturday 29th April 2017. I usually attend this festival and was looking forward to meeting Kit, but am now unable to visit the festival. I hope some of my blog visitors can make the festival - it is a great weekend.
Thank you to the publishers, Penguin, for sending me the book to review and for inviting me to take part in the blog tour to celebrate the paperback publication of My Name is Leon.