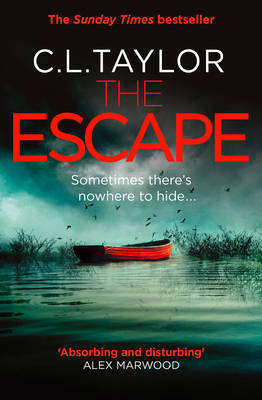 Praise for C.L. Taylor: 'A gripping and disturbing psychological thriller' Clare Mackintosh 'Absorbing and disturbing' Alex Marwood 'Loved it' Fiona Barton 'Claustrophobic, tense and thrilling' Elizabeth Haynes "Look after your daughter's things. And your daughter..." When a stranger asks Jo Blackmore for a lift she says yes, then swiftly wishes she hadn't. The stranger knows Jo's name, she knows her husband Max and she's got a glove belonging to Jo's two year old daughter Elise. What begins with a subtle threat swiftly turns into a nightmare as the police, social services and even Jo's own husband turn against her. No one believes that Elise is in danger. But Jo knows there's only one way to keep her child safe - RUN. The Sunday Times bestseller returns with her biggest and best book yet. The perfect read for fans of Paula Hawkins and Clare Mackintosh.
Publisher:

HarperCollins Publishers
ISBN:

9780008118075
C L Taylor is a fabulous author - her psychological thrillers keep you on the edge of the seat for the whole book, with many twists and turns throughout the book, which keeps you guessing to the very last moment. I loved this novel and it is definitely one of my must read books of 2017.
The story is told in the present day, with little snippets of information given about Jo's past entwined, leading the reader on a road to discovery. There is a strong mental health storyline throughout the book, an important theme which is prevalent in today's world and Cally has tackled it head on and The Escape is a great example of how people live with it everyday.
There is one thing that I must mention in this review, is the author's descriptive writing of Jo's panic attacks. I suffer from them myself and while reading this book I found myself living through each of Jo's attacks with her. Cally's writing was spot on, panic attacks are scary episodes and I felt every moment of Jo's attack as she worked through it. This all added to the fantastic storyline and meant I had to read just one (or two) more chapters each night. Also the scene of the beach, which I won't speak much of as I don't like to do spoilers, was expertly written and I found myself on that beach with the characters, living through the terror as the story neared its end.
I definitely recommend this book to anyone who wants a book that grabs your attention from page one and doesn't let go. It is a brilliant psychological thriller which is definintely going to be one of my must reads of 2017.
Thank you to the publishers, Avon, for sending me the book to review in return for a place on the Blog Tour and an honest review.