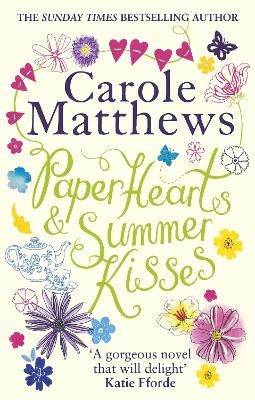 'A gorgeous novel that will delight' Katie Fforde A heart-warming and poignant novel of romance, family and second chances, Paper Hearts and Summer Kisses is Sunday Times bestselling Carole Matthews at her outstanding best. Perfect for fans of Jill Mansell and Milly Johnson. Christie Chapman is a single mum who spends her days commuting to her secretarial job in London and looking after her teenage son, Finn. It's not an easy life but Christie finds comfort in her love of crafting, and spends her spare time working on her beautiful creations. From intricately designed cards to personalised gifts, Christie's flair for the handmade knows no bounds and it's not long before opportunity comes knocking. Christie can see a future full of hope and possibility for her and Finn - and if the handsome Max is to be believed, one full of love too. It's all there for the taking. And then, all of sudden, her world is turned upside down. Christie knows that something has to give, but can she really give up her dreams and the chance of real love? Will Christie find her happy ending in ...Paper Hearts and Summer Kisses.
Publisher:

Little, Brown Book Group


ISBN:

9780751560268
Carole Matthews is one of my all time favourite authors and I often recommend her titles to my friends and unsuspecting shoppers in the book aisles and 'Paper Hearts and Summer Kisses' is, in my opinion, one of my top Carole Matthew's novels (along with The Chocolate Lovers series).
'Paper Hearts and Summer Kisses' is also about another of my favourite pastimes, papercrafting and is based loosely upon the real life story of Christine Emerson, a single parent with an ill child, who is given the oppurtunity of a lifetime and a way to earn a living while continuing with a hobby that she loves.
Although I had heard about Christine Emerson before this book and loved her work and have watched her on one of the Craft Shopping channels, I really enjoyed the story and it is a great fiction story even if the reader knew nothing about the lady behind the story. The story has a great character list and there is a lovely love story within as well as a strong woman who has as the saying goes, been dealt lemons, but she definitely makes lemonade and does the best thing she can for both herself and her family.
I really liked the character of Finn, Chrissie's teenage son who is ill, but he is also a strong character who develops throughout the story and encourages his mother to follow her dreams and takes steps to make things happen.
I hope this book introduces lots more new readers to Carole Matthews and also encourages lots of readers to take a step into the papercrafting world. I know that Carole has developed a love for papercrafting and I hope others do too. I really enjoyed reading the book and felt lucky that I could visualise the contents of the boxes of goodies that arrived at Chrissie's house however it is definitely not a necessity of enjoying the book, although if you are a fellow crafter, it may add a few things to your shopping basket.
Thank you to Carole Matthews and the publishers, Little Brown, for inviting me to be part of the blog tour in return for an honest review of this (fabulous) book.