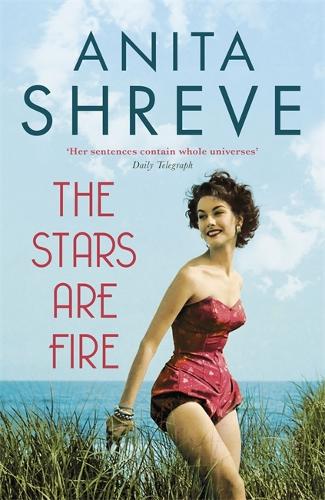 The brilliantly gripping new novel from the New York Times best-selling author of The Pilot's Wife (an Oprah's Book Club selection). Hot breath on Grace's face. Claire is screaming, and Grace is on her feet. As she lifts her daughter, a wall of fire fills the window. Perhaps a quarter of a mile back, if even that. Where's Gene? Didn't he come home? 1947. Fires are racing along the coast of Maine after a summer-long drought, ravaging thousands of acres, causing unprecedented confusion and fear. Five months pregnant, Grace Holland is left alone to protect her two toddlers when her difficult and unpredictable husband Gene joins the volunteers fighting to bring the fire under control. Along with her best friend, Rosie, and Rosie's two young children, the women watch in horror as their houses go up in flames, then walk into the ocean as a last resort. They spend the night frantically trying to save their children. When dawn comes, they have miraculously survived, but their lives are forever changed: homeless, penniless, and left to face an uncertain future. As Grace awaits news of her husband's fate, she is thrust into a new world in which she must make a life on her own, beginning with absolutely nothing; she must find work, a home, a way to provide for her children. In the midst of devastating loss, Grace discovers glorious new freedoms - joys and triumphs she could never have expected her narrow life with Gene could contain - and her spirit soars. And then the unthinkable happens, and Grace's bravery is tested as never before.
Publisher:

Little, Brown Book Group


ISBN:

9781408702987
This is the first Anita Shreve I have read in some time and it is definitely not going to be my last. I was drawn in to the story from the very start. I really liked Anita's style of writing, it is very atmospheric and I found myself living through the drought, snow and the fire. I really enjoyed reading about the style of living on the US coastline during 1947 and the dynamics within the families. It was a time where men went out to work and women stayed at home looking after the children and keeping house, however I think that life in America was different to that within postwar UK.
I felt the story had a strong storyline, with characters who I sympathised with and I really felt for Claire, two young children and then pregnant with a third, which was conceived in violent circumstances. It is evident from the start that family life was not a happy place with Gene marrying Claire after loosing the love of his life.
After the fire, life changes for the neighbourhood and while Gene is lost Claire has the oppurtunity to stand up and make things better for her family. The mysterious pianist who Claire finds squatting in the home previously owned by her mother in law, is the sunshine in her life for a short time but when he leaves Claire continues to work hard and gains independence making a better life for her and her family. However this is short lived when the police turn up on her doorstep and Claire's fortunes change again and a difficult decision must be made.
I really enjoyed the story and I think that although the story is set in 1947 and in America it is still relevant today. Women across the world are living in fear, with husbands who take charge or monopolise their families, leaving women and children living in daily fear (of course many men are also living in abusive relationships), however stories like this show that these relationships can be escaped and people can have a life after their fear.
I think this is one of those books that could give many of its readers a positive message that things can improve and I hope that it is a book that is shared because it it a great story but also one that can give hope,
Thank you to the publishers, Little Brown, for inviting me onto this book tour in return for an honest review.