Today I am pleased to welcome Catherine Ferguson to my blog as part of her blog tour to celebrate the ebook pubilication of her new book, The Secrets of Ivy Garden.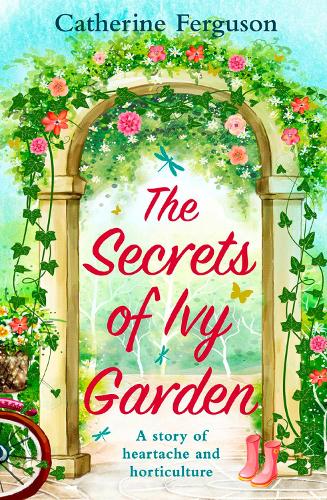 The ebook bestseller is back with her next hilarious read - a fun, fresh tale of love, friendship and family secrets...When Holly breaks up with her boyfriend Dean, she's at a loss as to what to do next. But things go from bad to worse when her beloved grandmother Ivy dies - and Holly is left in charge of sorting out Ivy's house and garden. As she sorts through her grandmother's belongings and makes her way through the wilderness outside, Holly soon finds that there is more to Ivy than meets the eye, and uncovers a surprising family secret that changes everything...This is a heart-warming and hilarious story from Catherine Ferguson about starting over, learning to garden and most of all learning to love.
Publisher:

HarperCollins Publishers


ISBN:

9780008253356
The publishers have kindly shared with me and my blog readers an extract from the book which I hope you all enjoy .....
I want Ivy so much right now, I feel as if my heart will break.
Last time I saw her, she was waving me off on the train back to Manchester.
I remember thinking how elegant she was that day. Normally, Ivy lived in casual trousers and tops. Life was too short, she said, for feeling like a trussed-up goose in the name of fashion. But she'd taken me for an early supper at a nearby pub before driving me to the station in Stroud, which was why she was all dressed up. Right then, on that station platform, she could have passed for a woman in her late fifties. Hard to believe she was seventy-two.
Actually, the way I usually remember her now is in the old gardening garb she used to wear, or in her hiking gear, fresh from walking in the country lanes around Appleton.
A painful lump wedges in my throat.
This is how it happens. I'll just be starting to think I'm doing okay, coping well, beginning to make plans – then boom! The thought that I'll never be able to see Ivy or hug her ever again sends a flood of grief washing through me.
Hot tears prick my eyelids. The nails-in-palms trick isn't
working. Then something Ivy used to say zips into my mind: Worry's like a rocking chair: it gives you something to do but never gets you anywhere.
I swallow hard, picturing her giving me one of her no-nonsense pep talks. It's almost as if she's sitting right here next to me, a twinkle in her eyes, on the bench in her beloved Ivy Garden. Telling me not to worry because things are never as bad as they seem and I'll figure it out somehow.
Of course! That's where I need to be.
Ivy Garden.
Her favourite place in the whole world.
With my eyes still closed, I picture Ivy Garden the last time I saw it, on that final weekend I spent with her.
It was a hot August day. We wandered over the road and squeezed through the gap in the hedge, to the dappled woodland clearing that, over the years, Ivy had transformed into a sanctuary of peace and tranquillity.
She discovered the place years ago, when she was newly married to Peter, my granddad. He died long before I was born, when my mum was only three years old. Ivy never talked about Peter much, except to say he was 'a good man'. She said that a lot whenever I asked her what he was like, so I still only had a rather hazy impression of him. He was a self-employed accountant and I got the impression he worked really hard. I think Ivy liked to escape the house and leave him in peace with his calculations. More than once, I heard her say laughingly that her 'secret garden' had kept her sane during her marriage.
The clearing in the trees was on public land, on the edge of a wood, and Ivy nurtured it into a lovely woodland garden. She planted shrubs, flowers and grasses for every season, so there was a rolling show of colour all year round, from the banks of snow­drops and crocuses as the frosts of winter melted into spring, to the glorious russets of autumn. Many of the villagers knew about the garden and would pop in for a chat while she worked. She often lounged on the old wooden bench reading the blood-curdling thrillers she loved, her feet up, with an old cushion at her back. She never seemed to mind being interrupted.
Someone once referred to it as 'Ivy Garden' and the name stuck.
We were there that blisteringly hot afternoon to pick lavender so that Ivy could make her perfumed drawer sachets to sell at the Appleton summer fete. She would run up the tiny white muslin bags on her old sewing machine and then fill them with the evocatively scented dried herb, tying them up with silky pink ribbon. The proceeds would be donated to the village hall commu­nity fund.
After we picked the lavender that day, she set her old gardening trug on the mossy ground and we sank on to the wooden bench under the dappled shade of an oak tree, and drank chilled pear cider straight from the bottle. It was a relief to be out of the sweltering sun and we lingered there a long time, soaking up the birdsong and the buzz of nature, as Ivy Garden weaved its magic around us.
I am currently reading The Secrets of Ivy Garden and am loving it. It is the perfect book to read this spring time and I am loving the descriptive writing of Ivy Garden and wish I could visit it as I think it is the perfect place to sit for a day, in the sun, and read a book and enjoy the peace, quiet and the wildlife and insects that are in the surrounding gardens.
Thank you to the publishers. Avon, and Catherine for inviting me onto the tour and I will publish my review as soon as i finish the book.