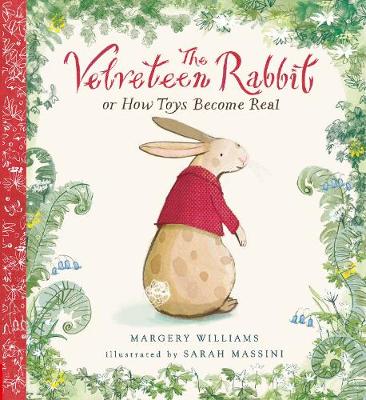 When the Velveteen Rabbit first arrives in the nursery, he's snubbed by the other toys. But the Rabbit soon makes friends with the Skin Horse who explains how toys can become 'real',if only they are loved enough. But when Boy is ill with Scarlet Fever, and Rabbit is thrownaway, Rabbit finally discovers what it truly means to be real.
Publisher:

Nosy Crow Ltd


ISBN:

9780857636966
This is a beautiful book, an heirloom which could be passed from grandparent to grandchild, with happy memories of their own parents reading it to them. The story was originally published in 1922 and has remained a firm favourite with children ever since. It has not aged and is still as popular today.
The illustrations throughout this book are beautiful, they are not the original illustrations but they are similar in style and will be loved by children of all ages. The story is a long one and therefore this would make a beautiful gift for older children (age 5+) who can curl up with their parents or relatives and enjoy listening to the story of when toys in the nursery come to life.
This book would be the perfect gift to give to a child when they are born or as a present at birthday or Christmas time. It will be kept on the shelf, and taken out to read together, regularly and enjoyed by all. An heirloom which can be passed down the generations.
Thank you to the publishers, Nosy Crow, for sending me the book to review in return for an honest review.