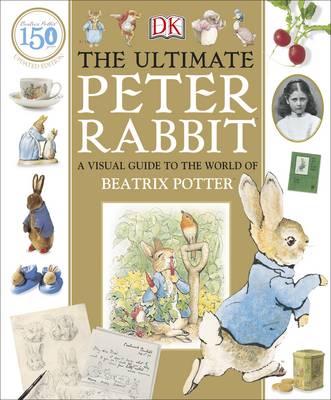 Packed with detailed sketches of Beatrix Potter's best-loved characters, descriptions of each of the 23 "Little Books" she created, and a selection of gorgeous original illustrations, The Ultimate Peter Rabbit is the perfect guide for new and dedicated fans alike. Generous access to the Potter estate's archives has produced a volume which includes 300 artworks from the books and over 50 specially commissioned photographs of Beatrix Potter's English Lake District home, the inspiration for the bucolic settings of the long-adored children's classics. Prepare to celebrate a century in print with one of the most visual guides to one of the world's best-loved children's characters.
Publisher:

Dorling Kindersley Ltd


ISBN:

9780241289655
This is a must have for any Beatrix Potter fan. It is a beautiful book which has been updated for the celebration of 150 years of Beatrix Potter's birth. It is a detailed guide of all things Beatrix Potter.
The book has a whole section dedicated to Peter Rabbit and how Beatrix Potter began creating the popular books. There are lots of photographs, letters and hand drawn illustrations throughout the book and I really enjoyed reading all about Beatrix's life and her inspiration.
Each of Beatrix Potter's characters are included in the book along with the beautiful location, Hill Top, where she lived. The book takes the reader on a journey around the area in which the stories are set and it has made me want to visit even more.
This would be the perfect gift to give this Christmas to any Beatrix Potter or Peter Rabbit fan.
Thank you to the publishers, DK, for sending me this book to review in return for an honest review.