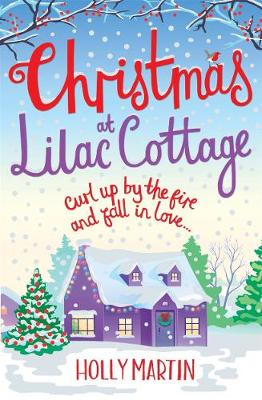 Snow is falling on White Cliff Bay, where Christmas is magical and love is in the air ...Penny Meadows loves her cosy cottage with its stunning views over the snow-topped town of White Cliff Bay, but not even the roaring log fire can keep her personal life from feeling frozen. That is until dashing Henry and his daughter Daisy arrive at the cottage for the festive season. And between decking the halls and baking delicious mince pies, Penny realises there is more to Henry than meets the eye. With sleigh bells ringing and fairy lights twinkling, the ice-sculpting competition and Christmas Eve ball are in full swing. Will Penny be able to melt the ice and allow love into her heart? And will she finally have the perfect Christmas she's been dreaming of?
Publisher:

Zaffre Publishing


ISBN:

9781785762703
I look forward to each year's Christmas novels with excitment. Not only do I love the festive stories but I also love their covers, lots of glitter and sparkle on the outside of the book and fantastic stories to curl up and enjoy against the cold and dreary weather outside. This book has a beautiful cover, the snow is sparkly and is a great reflection of the story it holds within.
Christmas at Lilac Cottage is the first book I have read by the author, Holly Martin, but it is definitely not my last. As soon as I started reading it, I was drawn in. I immediately loved the main character, Penny Meadows, and I think her job, an ice sculptor carver, also interested me. She appears to be a vulnerable character, who has lost her mum but has a surrogate mum in her cleaner. She wants to find love but is scared she will get hurt. She has an annexe in her house which she wants to rent out, cue Henry, a good looking male, who has a teenage daughter, of whom he is very protective, but who thinks Penny would be a great mum. She also eyes up one of the locals as a prospective first love for herself but with an over protective father can she have a relationship.
The book is set in White Cliff Bay, an idealic country setting, a place I would love to visit and I have a picture in my mind of how it would look. The story has a real good message and sees the villagers pulling together with fantastic community spirit to overcome potential disaster.
I really like Holly Martin's writing style, it is an easy read and I kept wanting to read just one more chapter before putting it down. There were also a few scenes within the book that would make Penny's ice scuptures start to melt but these were fantastic and added to the story.
This is the first book in a new series by Holly Martin and I am definitely looking forward to the next installment as there are some loose ends in the story which I really want to know the answer to.
Thank you to the publishers, Bonnier Zaffre Books, for sending me the book to review in return for an honest review.