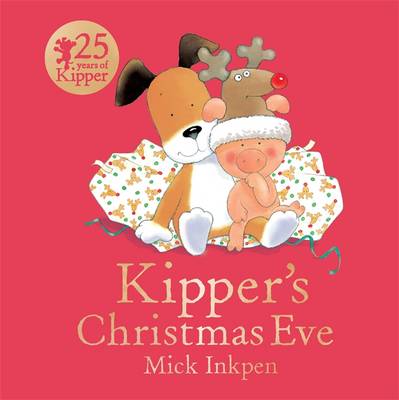 This festive board book edition of a classic Kipper story makes the perfect gift for Christmas. Which is best, Kipper wonders, Christmas Day or Christmas Eve? Presents? Or expecting presents? Kipper's friends are all getting ready for Christmas too and Kipper manages to give little Arnold his best Christmas Eve ever. Mick Inkpen's Kipper has been a star of picture books and animation for over 25 years. 'The charmingly comical Inkpen, as always, hits the spot.' Guardian
Publisher:

Hachette Children's Group


ISBN:

9781444930290
Kipper has a special place in my heart and when I received this book in the post I was taken back to the birth of my second child back in 2004. My mum had come over to look after my daughter while myself, my husband and our new son where being checked over in hospital and my daughter's favourite book at the time was 'Honk', a Kipper book and my mum must of read it 50 times while we were away - she can still recite it word perfect some 12 years later!
Anyway, back to Kipper's Christmas Eve. This is a special edition of the book as it is marking 25 years of Kipper and he is still as cute and adorable as he was at the start. Unlike some characters, Kipper has not been modified or computer generated, nor have his friends Pig, Arnold, Tiger and Mouse, although I can 't find Honk the Duck in this story unfortunately (although this is just me who loves this character).
Board books are often thought of as first books, books for babies and likely to be full of big, colourful pictures and few words, whereas this book is suitable for babies, toddlers and, I am sure, young children as a book that is bought out and read every Christmas period (although why not read it in the heat of Summer too). It is a longer story, although I am sure that the children will enjoy looking at the fantastic pictures throughout the book while an adult or older child read the story, which is another fantastic Mick Inkpen story.
I highly recommend this book as a perfect present for a young child this festive time and I am sure it will soon become a firm favourite, that someone, like my mum, will read over and over again and soon know off by heart.
Thank you to the pubishers, Hodder Children's Books, for sending me this book to review in return for an honest review.