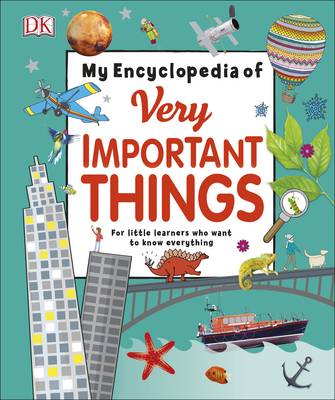 Full of fun facts, colourful illustrations, and games that will feed a child's imagination and quench their thirst for knowledge, whilst supporting the National Curriculum. My Encyclopedia of Very Important Things is the perfect book for children from 4 - 7 years of age. Supporting the national curriculum and providing all the information young minds need and much more, My Encyclopedia of Very Important Things is split into four sections, All About Me, Animals, People, and My Planet, covering everything from the continents to the blue whale in fun and engaging ways. Bursting with knowledge and loads of very important things to set young minds alight.
Publisher:

Dorling Kindersley Ltd


ISBN:

9780241224939
When I was younger, homework would often involve heading to the book shelves and pulling out an encyclopedia to look up an answer, however my children pull a face everytime I suggest they look it up in a book and find it so much easier to 'just Google it mum!'. I still encourage them to use books and have a couple of encyclopedias on our book shelf.
This book is perfect for younger children, who are just starting in Key Stage One (Reception, Year One and Year Two), who are asking 'Why?' or are interested in learning new things. It is published by DK, who I believe, publish very informative books for all ages and as it says on the cover 'For little learners who want to know everything'. The book is split into a number of handy, colour coded sections:
Very important things about my planet

Very important things about places

Very important things about animals

Very important things about people

Very important things about me

Here are some other very important things
Every page in this book is brightly coloured, with lots of illustrations and photographs. There is a good mix of words and pictures and there are lots of useful information and is a great starting place for any homework project.
I would recommend this book as a great gift for any child who is starting school, or is always asking questions, wanting more information. It is a book that will sit on a shelf but will be referred to frequently and I think children will choose this book to look through over story books on many occasions.
Thank you to the publishers DK for sending me the book in return for an honest review.