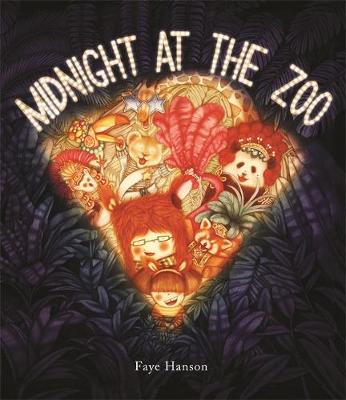 Max and Mia are very excited about their school trip to the zoo. But when they arrive not much is happening; the zebra is asleep, the lions are hiding and they can't even see a monkey. Max and Mia make the best of it - after all, if you look very carefully there is something to see everywhere. Then they fall too far behind everyone else ...and are locked in the zoo at night! What they didn't realise is that midnight is time the zoo comes alive. Flamingos are doing the flamenco, the lions dance till dawn and the pandas have a party. Illustrated in Faye Hanson's magnificently detailed style, this is an exciting new book from the writer and illustrator of The Wonder.
Publisher:

Templar Publishing


ISBN:

9781783703272
I really enjoyed this book, a scholl trip to the zoo which isn't very successful because the animals are either hiding or asleep, and then Maz and Mia are left behind. However as the clock strikes midnight, the animals come out to play and Max and Mia are treated to a spectacular as the lions dance, flamingos (my favourite) flamenco and the panda's have a party. It is a great story which children will enjoy listening to and reading over and over again.
My one thought about this book is about the illustrations. They are beautiful but I think that they are suitable for slightly older toddlers. They are not the usual illustrations in children's books, they have an 'orangey' tone, as one reviewer has stated for a previous Faye Hanson book 'the soft sepia-toned world' (Maker of small things, 05/10/14, Amazon). It gives an added effect to the illustrations, adding to the mysterious after midnight world of the zoo. I really do like the illustrations, they are beautiful and are very unique.
Thank you to the publishers, Templar Publishing, for sending me the book in return for an honest review.