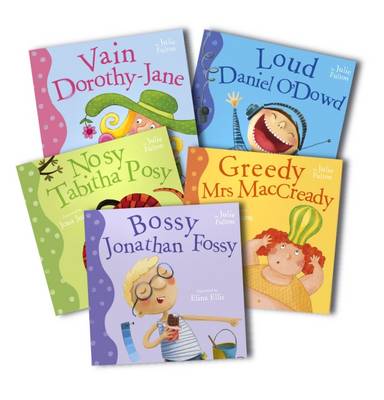 This set of five books contains; Vain Dorothy-Jane; Loud Daniel O'Dowd; Nosy Tabitha Posy; Greedy Mrs MacCready and Bossy Jonathan Fossy.
Rhyming books are always popular with young children, and this set of books contains five books which are written in rhyme about five children.
Some of my highlights of these books are:
The stories are

written in rhyme, but it is more than simple rhyme. The words are well written and, as Julie Fulton is also a music teacher, I believe this book should be set to music – a great rhyme for children to dance to!
They are great for children with wild imagination. The books are humorous and will appeal to both young children and the adults who read it to them. With the catchy text it will soon be recited from memory and become a firm favourite at story time.




The illustrations by Jona Jung are also fantastic - they accompany the text perfectly and will be the source of much discussion with young children with pictures being hand drawn but full of detail and Jona Jung has captured the fun and energy within the illustrations perfectly
There is a great moral to the story - use books for research and reference! This is one which I can try to urge my children to remember but with the age of the Internet one which is being forgotten (Tabitha Posy)
I really like these books and Julie Fulton is a fantastic story-teller and does brilliant events for children, so if she is ever near you, please pay her a visit.
This set is a great way to buy all five books and would make a perfect gift for young children.
Thank you to the publishers, Maverick Publishing, for sending me the books to review.