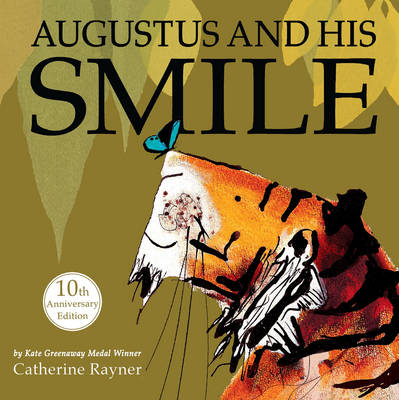 Augustus the tiger is sad. He has lost his smile. So he does a HUGE tigery stretch and sets off to find it. As he climbs mountain crests patterned with frost and swims to the bottom of inky blue oceans, Augustus soon realises that his smile will be there whenever he is happy. He just needs to open his eyes to the beauty of the natural world around him. Rediscover the magic of Catherine Rayner's illustrations with this stunning 10th anniversary edition. With a gorgeous jacketed cover with gold foiling, this picture book would make a perfect gift for a baby shower, christening or birthday. Augustus and his Smile was Catherine Rayner's first book. It was nominated for the Kate Greenaway Award and won the 2006 Booktrust Early Years Award.
Publisher: Little Tiger Press Group
ISBN: 9781848692329
I really enjoy collecting anniversary editions of books and when I received this book I was very excited. It is a beautiful book at first sight and when I saw it was Catherine Rayner I knew that the inside would be just as beautiful.
Catherine Raynor writes beautiful stories about animals and they are accompanied by her gorgeous illustrations. With a name like Augustus, the reader should expect a majestic animal, and Augustus is such a beast, a tiger who is looking for his smile, which he thinks he has lost. It is a lovely story and as the reader turns each page, they are introduced to another beautiful illustration, hand drawn by Catherine and the words of the story, are not just added to the page, but integrated into the illustration, drawing the readers eye into the picture.
As I have previously said, I adored this special 10th anniversary edition of the book and I would recommend it as a special gift to a child, one to share and treasure and maybe to read with their own children in years to come.

Thank you to the publishers, Little Tiger, for sending me the book to review.