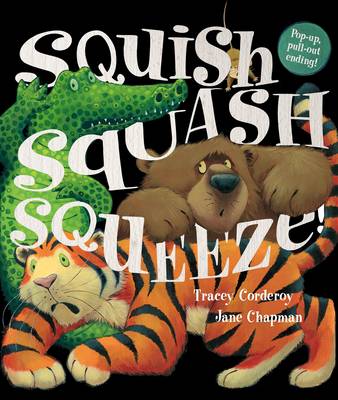 Squish Squash Squeeze! is the brilliant new picture book from talented author/illustrator team Tracey Corderoy and Jane Chapman (The Little White Owl and The Magical Snow Garden). Packed full of surprises, this funny tale about unexpected friendships will delight small children, as they discover the tiger, crocodile and bear hidden in Mouse's house. With a fantastic pop-up, pull-out ending, it's just the book to squish-squash-squeeze into your bookshelves. Mouse's new house seems perfect, with just enough room for his things. But who's that growling by the piano? And who's that sliding down the banister? Uh-oh! There are some VERY BIG animals living in the house. What a squish-squash-squeeze!
Publisher: Little Tiger Press Group
ISBN: 9781848691896
Another new title from the fantastic Tracey Corderoy - this one squishes, squashes and squeezes lots of animals into Mouse's house and everywhere he turns, he finds new friends, all of whom are rather noisy!
This is one of those books that you know children will love. The story is brilliant, full of noisy animals who children meet every turn of the page and the illustrations by Jane Chapman are bright, colourful and bold and make the reader believe you are in a tiny house with lots of animals squashed in.
I can imagine sharing story time with young children and this book. As every page is turned there will be laughter and noise as every picture is explored and the tale told - probably not the best to have at bedtime but great for a mid afternoon story time.
Thank you to the publishers, Little Tiger, for sending me the book to review.