Today I am very excited to open the blog tour for C L Taylor's third novel, The Missing, which tells the story of the disappearance of fifteen year old Billy, and the subsequent police investigation. All told from Claire, Billy's mother, point of view.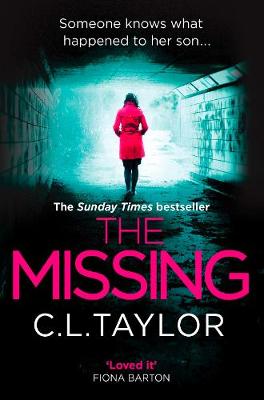 You love your family. They make you feel safe. You trust them. But should you...? When fifteen-year-old Billy Wilkinson goes missing in the middle of the night, his mother, Claire, blames herself. She's not the only one. There isn't a single member of Billy's family that doesn't feel guilty. But the Wilkinsons' are so used to keeping secrets from one another that it isn't until six months later, after an appeal for information goes horribly wrong, that the truth begins to surface. Claire is sure of two things - that Billy is still alive and that her friends and family had nothing to do with his disappearance. A mother's instinct is never wrong. Or is it? Sometimes those closest to us are the ones with the most to hide...
Publisher:
HarperCollins Publishers
Cally Taylor is fast becoming one of my favourite authors in the psychological crime thriller genre and this, Taylor's third novel, again leaves me wanting to read just one more chapter at night, which of course means I read for another hour!!
The story is told through the eyes of Claire, Billy's mum and I think the author has cleverly narrated the story from the mother's point of view. As a mother myself, I can only imagine how she must feel when her son disappears and the subsequent police investigation which leads to all aspects or Billy's and her family's life being investigated and discussed in the media. Add to this the complication of Claire suffering from blackouts, or fugues, periodically through the story and this adds to the confusion that she feels, as a mother with a missing child, as she tries to piece together what happened around the time Billy disappears. While reading the book I was able to sympathise with Claire, and understood the feelings and thoughts she was having. Having a child going missing and not knowing what happened or where they are must be one of the worst things that a parent can go through and Taylor's book certainly leaves readers feeling those feelings. Coupled with this, the fugues that Claire suffers and that multiplies that fear ten fold as she is left wondering if she knows something she can't come to terms with.
Claire's narrative tells the story, however between chapters there are snippets of internet chat between JackDaw44 and ICE9. Halfway through the book I though I had guessed who these conversations were about and who was having them however, in true Taylor fashion I was completely wrong and it wasn't until the very end of the book that I realised my mistake.
The story was fast paced, but not rushed and as each chapter finished I felt that someone else was under scrutiny, often returning to earlier 'suspects' but the real culprit was not revealed until the very end and I was shocked when I found who it really was.
I really enjoyed this book - I often read a lot of chick lit but I like to to add in some crime and psychological thrillers into the mix and this one was definitely worth it. It had me hooked from the first chapter and I read each chapter, always looking for clues as to what had happened to Billy, and felt that I was living Billy's disappearance with Claire, through the media and police investigation as we, the general public, have in recent years with the high profile police searches for missing children in recent years.
I recommend this book to anyone who enjoys psychological thrillers, and although the story-line is of a missing child and the police investigation which follows, there book is a fantastic read and will leave readers reaching for Taylor's back catologue!
Cally Taylor has local connections to me and I really enjoyed listening to her at Worcester Literary Festival last year in
The Illustrious Crime Panel event
and I am looking forward to the end of the month when Cally will also be visiting Chipping Norton's
Chiplitfest
.
Cally Taylor is hosting a workshop
'The Art of a Good Thriller'
and is on the panel for
'Liar Liar'
, a discussion to find the favourite fictional fraud, with fellow panellists Lucy Atkins. Hannah Beckerman and Amanda Jennings at Chipping Norton's Literary Festival on Saturday 23th April 2016.