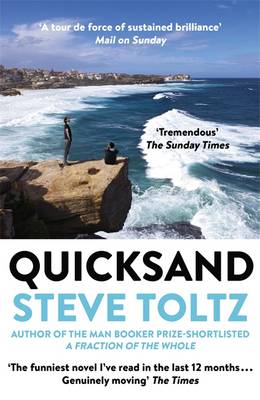 'A tour de force of sustained brilliance' Mail on Sunday Wildly funny and unceasingly surprising, Quicksand is both a satirical masterpiece and an unforgettable story of fate, family and friendship. Aldo Benjamin may be the unluckiest soul in human history, but that isn't going to stop his friend Liam writing about him. For what more could an aspiring novelist want from his muse than a thousand get-rich-quick schemes, a life-long love affair, an eloquently named brothel, the most sexually confusing evening imaginable and a brief conversation with God? 'What a joy to surrender oneself to a writer of such prodigious talent.' Peter Carey 'Tremendous' Sunday Times
Publisher:

Hodder & Stoughton General Division


ISBN:

9781473606074
I really enjoyed the writing style of this book, full of comic humour, but underneath a fantastic storyline which kept me engaged throughout.
Liam, a cop, is also a failed writer, and Aldo, an entrepreneur and criminal. The first chapter is entitled
Two friends, Two agendas, (One hidden) and that sets the scene perfectly. It is a brilliant written book and one which kept me hooked right to the end and now I am unsure what to read next!
Toltz's style of writing is easy to read, full of humor and believable, however there are also unpredictable moments and those which are thought provoking for the reader - a real roller coaster of a read but one which readers will be recommending to their book lover friends.
I received this book in return for an honest review during the book blog tour. Thank you to the publishers.