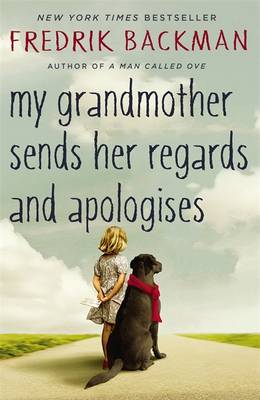 A must-read for fans of Rachel Joyce's The Unlikely Pilgrimage of Harold Fry and Maria Semple's Where'd You Go, Bernadette Heartbreaking and hilarious in equal measure, the new novel by the author of the internationally bestselling phenomenon A Man Called Ove will charm and delight anyone who has ever had a grandmother. Everyone remembers the smell of their grandmother's house. Everyone remembers the stories their grandmother told them. But does everyone remember their grandmother flirting with policemen? Driving illegally? Breaking into a zoo in the middle of the night? Firing a paintball gun from a balcony in her dressing gown? Seven-year-old Elsa does. Some might call Elsa's granny 'eccentric', or even 'crazy'. Elsa calls her a superhero. And granny's stories, of knights and princesses and dragons and castles, are her superpower. Because, as Elsa is starting to learn, heroes and villains don't always exist in imaginary kingdoms; they could live just down the hallway. As Christmas draws near, even the best superhero grandmothers may have one or two things they'd like to apologise for. And, in the process, Elsa can have some breath-taking adventures of her own ...
Publisher:

Hodder & Stoughton General Division


ISBN:

9781444775853
A Man Called Ove was an instant hit with thousands of readers, and this, the often difficult second book, My Grandmother Sends her Regards and Apologises by Fredrik Backman is another great read.
The thing I loved most about this book are the letters written by Elsa's grandmother. The letters tell the
the fairytales of the Land of Almost-Awake and the Kingdom of Miamas,
weaving throughout the story and are treats for the reader to find, leading them further into the tales. These tales are true testament to the incredible imagination that Backman uses to create these stories and cleverly narrates them, while also telling a modern day story, with people's lives and secrets being revealed or explained through the fairy tales.
There is both sadness and happiness throughout the book, with both life and death embraced but the book is one which once picked up and started will keep the reader enthralled until the very last word. There are many brilliant characters included throughout the book and I am sure that every reader will choose their own favourite. There are lots of laugh out loud moments throughout the book too - as both Granny and Elsa have comic timing and interesting views.
This book would be perfect as a book club read. There are so many story-lines which are easy to follow, but as the reader gets further into the book, I am sure readers will interpret tales in different ways, leading the way to interesting discussions between friends and family.
Thank you to the publishers, Hodder and Stoughton, for asking me to be a stop on this tour and sending me a copy of the book in return for an honest review.