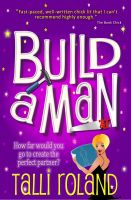 Slave to the rich and the rude, cosmetic surgery receptionist Serenity Holland longs for the day she's a high-flying tabloid reporter. When she meets Jeremy Ritchie -- the hang-dog man determined to be Britain's Most Eligible Bachelor by making himself over from head to toe and everything in between -- Serenity knows she's got a story no editor could resist.

With London's biggest tabloid on board and her very own column tracking Jeremy's progress from dud to dude, Serenity is determined to be a success. But when Jeremy's surgery goes drastically wrong and she's ordered to cover all the car-crash goriness, Serenity must decide how far she really will go for her dream job.
As soon as I started this book, I knew that I was going to love it! I quickly devoured the book and have been left hoping that I will meet Serenity again soon.
The main character is Serenity, an American, who comes to London to make it as a journalist. However, when we meet her, she is a receptionist at a plastic surgery clinic. She works for her boyfriend, whom she also lives with, and who does not believe that she will, or should, make it as a journalist. I immediately disliked her boyfriend, he appeared to only care about the money his work would make him, rather than the result for the patient.
Serenity is interested to learn more about a new patient to the surgery, Jeremy, who wants to become a 'new man' and have plastic surgery to achieve this. However, Serenity is attracted to this man and does not believe he should have any surgery. She calls herself a life coach and spends time with Jeremy, to find out more about him and is history. She also approaches a newspaper to run a column based on Jeremy and his journey through the surgery. The newspaper agrees to make this a regular weekly feature on their website, but soon want more details, details which Serenity does not believe should be shared with the world. She soon decides that the column should be stopped, but the newspaper have other ideas. As Jeremy has drastic surgery, his identity, along with that of his surgeon, who has no idea of the column, becomes known. There are complications with the surgery, and Serenity looses her home, her boyfriend and her job all in one go - but will she be able to explain all to Jeremy before he finds out from someone else??
The book is full of comedy and romance and with real characters that could be identified in the world today. There are so many people considering cosmetic surgery in the world and I am sure people enter surgeries wanting to remodel themselves to become their perfect selves! I found Serenity a fantastic character, one I would love to be friends with, happy to chat and I thought her friendships, although they were sporadic and at times one sided, were true friendships which will stand the test of time.
I found at the end a fantastic note, that Talli is writing a sequel to this book, Construct a Couple, which will focus on Serenity and Jeremy, and this is one book I am definitely looking forward to this new year. Jeremy has such a lot of history and I am sure there are issues which need to be addressed in a new relationship that could be difficult for Serenity to cope with. I am so looking forward to this next book being released!
I would recommend this book to anyone who loves a good chick lit or romance book, but be warned, once you have opened it, you won't be able to put it down until you have finished it.
Thank you to the author, Talli Roland, for sending me the book to review.