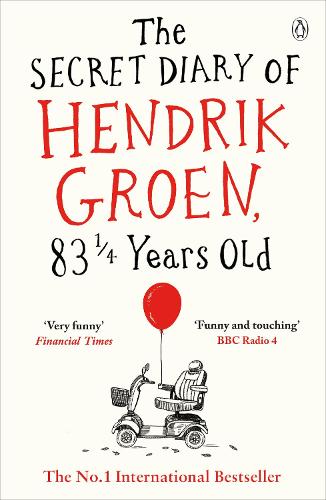 The hilarious international bestselling novel that has had pensioners ditching their sticks and zimmers to follow the age-defying, youth inducing antics inside The Secret Diary of Hendrik Groen, 83 1/4 Years Old . . . 'Terrific. This geriatric Adrian Mole made me laugh' Woman and Home 'Funny and touching' BBC Radio 4 Meet Hendrik Groen. An octogenarian in a care home who has no intention of doing what he's told, or dying quietly. To that end, he creates the Old-But-Not-Dead Club and with his fellow members sets about living his final years with careless abandon. Such anarchism infuriates the care home director but pleases Eefje, the woman who makes Hendrik's frail heart palpitate. If it's never too late to have fun, then can it ever be too late to meet the love of your life? 'So much more than just a comedy' John Boyne 'A story with a great deal of heart' Graeme Simsion, The Rosie Project 'Amusing and wickedly accurate. A handbook of resistance for our time.' Sunday Express 'Very funny' Jeremy Paxman Financial Times
Publisher:

Penguin Books Ltd
ISBN:

9781405924009
As a teenager I really enjoyed The Secret Diary of Adrian Mole 13 3/4 and have read the whole series, so when I was asked to review 'The Secret Diary of Hendrik Groen, 83 1/4 years old' I was intrigued to see how the format worked for an older generation. It worked really well with Hendrik documenting his everyday life, filling his diary full of observations of the life of the members of the 'Old But Not Dead Club'. As it can be assumed there are many happy but also some low and sad moments throughout the book, however they are dealt with in a sympathetic manner and not dwelt upon for long periods.
I found myself laughing out loud throughout the book as Hendrik described his day to day life in the care home. There is a great supporting cast of residents who also live in the care home. Day to day life is really that, with the ups and downs documented along with the weird and wonderful instances that I can imagine happening as the care homes aging population deal with their various medical conditions while living their lives to the max. Recurring themes are evident throughout the book and the feeding of the fish is one which I enjoyed. Do fish really enjoy Battenburg?
I really enjoyed this book and strongly recommend it to others who want a great read this summer time. It is predominantly a laugh out loud book, however also be aware that there are some poignant and tear inducing moments sprinkled throughout.
Thank you to the publishers, Penguin Randomhouse, for sending me the book to review and to take part in this blog tour.