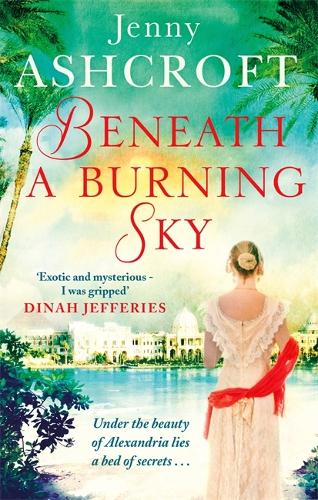 'A summer must-read' Red'Exotic and mysterious - I was gripped by this complex tale' Dinah Jefferies, author of number one bestselling The Tea Planter's Wife
'This story of twists and turns transcends era and genre. Absolutely brilliant' Kerry Fisher, author of The Silent Wife
'A must for fans of first-class writing, brilliant characters, fascinating locations and gripping plots' Tracy Buchanan, author of My Sister's Secre
t
'Beautifully described . . . A moving love story' Tracy Rees, author of Amy Snow
'Exquisitely written . . . unputdownable and unforgettable' Iona Grey, author of Letters to the Lost
A beautiful and gripping story of love and betrayal and mystery that ticks all the boxes. Perfect for fans of Patricia Wilson, Dinah Jefferies and Rosanna Ley. When twenty-two-year-old Olivia is coerced into marriage by the cruel Alistair Sheldon she leaves England for Egypt, his home and the land of her own childhood. Reluctant as she is to go with Alistair, it's in her new home that she finds happiness in surprising places: she is reunited with her long-estranged sister, Clara, and falls - impossibly and illicitly - in love with her husband's boarder, Captain Edward Bertram. Then Clara is abducted from one of the busiest streets in the city. Olivia is told it's thieves after ransom money, but she's convinced there's more to it. As she sets out to discover what's happened to the sister she's only just begun to know, she falls deeper into the shadowy underworld of Alexandria, putting her own life, and her chance at a future with Edward, the only man she's ever loved, at risk. Because, determined as Olivia is to find Clara, there are others who will stop at nothing to conceal what's become of her . . .Beneath a Burning Sky is a novel of secrets, betrayal and, above all else, love. Set against the heat and intrigue of colonial Alexandria, this beautiful and heart-wrenching story will take your breath away.
Publisher:

Little, Brown Book Group
ISBN:

9780751565034
I really enjoy spending summer days getting lost in a good book. If it is set in a faraway country it is even better because I won't be travelling to any exotic or far flung countries this year and, instead of spending my money on holiday travel, I enjoy spending it on books where I, the reader, am able to explore countries from the comfortable setting of my, new, garden chair.
In 'Beneath a Burning Sky' the reader is transported to Egypt and I really enjoyed exploring the markets and cities throughout the story. I really enjoyed the writing style and I could picture the scene, along with the smells and sights, but also the blistering heat as the sun reached its midday heat. The story is surrounded in a veil of mystery and this all adds to the intrigue of the setting. i really enjoyed the whole story and I found myself reading just a little more each day, not wanting to leave behind the characters or the setting.
I would recommend this book to anyone looking for a good summer read, and wanting to be transported away to someone hot with a story which will keep you enthralled until the very end.
Thank you to the publishers, Little Brown. for sending me the book to reivew.