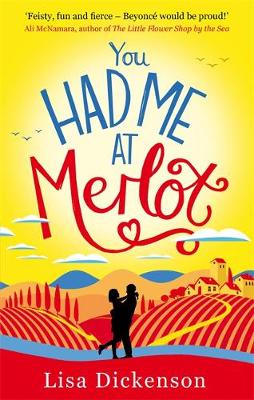 Elle and Laurie are the last ones standing: they're single, they're not having babies any time soon and their weekends aren't filled with joyful meetings about mortgages. For Elle, this is fine. She likes her independent life, but Laurie wants love and she wants it now. So when Laurie begs Elle to come with her on a singles holiday to a beautiful vineyard in Tuscany, Elle is reluctant. She has no intention of swapping her perfectly lovely life for someone else's idea of her Mr Perfect, but ten days under the Italian sun with her best friend and lashings of wine? How bad could that be? Full of sultry summer nights, hilarious moments and plenty of adventure, You Had Me at Merlot will warm even the most cynical of hearts and have you believing in the magic of romance (and the power of a decent glass of wine).
Publisher: Little, Brown Book Group
ISBN: 9780751561937
I read this book when it was initially published as a four part series and loved it. It is a feel good book and as soon as picked it up each time I was swept back to Tuscany and the vineyards. I loved Dickenson's writing style, her prose is descriptive and draws the reader straight in but is also mixed with her fantastic humour which keeps the mood upbeat. I also follow the author on Twitter and her quick one-liners are also included within the book.
I love the characters, they are a fantastic cast and I would love to of been on this holiday, under the Tuscan sun, with fantastic company and beautiful Italian sunshine. It sounds like a great idea for a holiday - a group of singletons with a common love of wine, in the beautiful surroundings.
I would recommend this book to anyone wanting a good book to read this summer - whether beside a pool or in the back garden enjoying the Great British Summer we have been promised.
Thank you to the publishers, Sphere, for including me on this blog tour and sending me the book to review.