Today I am very pleased to welcome Alexandra Brown to my blog as part of her blog tour to celebrate the publication of her new book, The Secret of Orchard Cottage, which takes readers back to Tindledale, the village where Hettie's House of Haberdashery is based and a shop I would love to visit and have as my local needle store! In this book we are introduced to Orchard Cottage, where Great Aunt Edie lives and is visited by her niece April Wilson, following the death of April's husband.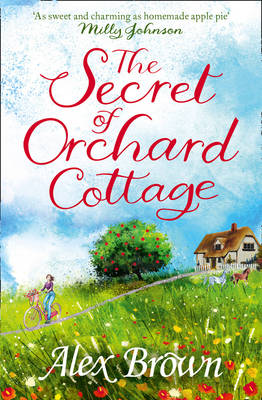 The wonderful new novel from Alex Brown, bestselling author of The Great Christmas Knit Off, perfect for fans of Trisha Ashley and Jill Mansell. April Wilson is wondering what to do next - her life has been turned upside down after the loss of her husband so she's hoping to piece herself together again with a visit to her elderly great aunt, Edith. Arriving in the rural idyll of Tindledale, she's dismayed to find Edith's cottage and the orchard behind it in a sorry state of disrepair. Edith seems to have lost interest completely, instead she's become desperate to find out what happened to her sister, Winnie, who disappeared during WWII. April gets to work immediately, discovering that the orchard still delivers a bumper crop each year, and with the help of some of the villagers - including Matt, the enigmatic Farrier - begins to unravel the mystery of the missing Winnie. Slowly, April can feel things coming to life again - but can Orchard Cottage work its magic on her too?
Publisher: HarperCollins Publishers
ISBN: 9780007597420
The publishers, Harper, have kindly given me an extract to share with you, my blog readers. This is the fifth part of the blog tour and the fifth extract - you can read the whole extract by visiting each of the first six blogs taking part in the tour and the rest of the blogs have beautiful recipes which are also included in the book:
To find out what happens before this, head to:
http://bookaddictshaun.co.uk/
http://thisisbeccasbooks.blogspot.co.uk/
http://shazsbookblog.blogspot.co.uk/
Gray had worried so much about April; often confiding in Jen, asking her to look out for his wife and
to support her through his demise and when he was no longer here. Because, although Gray and
April had been together for a while, they had only been married for a year when the diagnosis came,
and Gray had said he would completely understand if April wanted to end things with him then and
move on. Make a life for herself with somebody new. Somebody fit and vibrant. Instead of 'saddling
herself with a sickly, older, and quite often grumpy git like me' (Gray could be quite self-deprecating
at times). It was a lot to expect of her to stick by him, but April was having none of it. In sickness and
health. That's what she had vowed, and gladly so. She wasn't a quitter, never had been.
And caring for Gray had given April a purpose, something to live for, and God knows she had needed
it, because if the truth be told, her world had fallen apart that day in the consultant's office. April
had hidden it well of course, put on a brave face, stoic, and she was good at that, having trained at
Great Ormond Street hospital where nursing seriously ill children required an ability to protect one's
self, close off emotions when required – maintain an emotional distance, if you like. It really
wouldn't do for a nurse to cry. No, that was for other people. April's job was to be strong so that
everyone else around her could cope. Hence, she hadn't cried once in front of Gray or the twins. Or
burdened any of her friends from the knitting group or gym classes that she used to do in the local
leisure centre before Gray became seriously incapacitated. And April used to love knitting: sitting
next to Gray on the sofa of an evening, they would watch TV together and he'd tease her about the
chunkiness of her size 12 needles for a cosy Aran jumper that had been her last project. It was the
simple, everyday 'doing nothing' stuff that April missed most. But now, well . . . it just wasn't the
same on her own. The happy association of knit one purl one and laughing along to Gogglebox
wasn't there any more.
'Are you OK?' Nancy asked, leaning forward to stroke April's arm.
'Yes, sure. Sorry darling, I was miles away.'
April shook her head as if to clear her thoughts, and then smiled at Nancy.
'Don't apologise,' Nancy smiled back. 'We all knew today would be extra tough for you. Another
birthday without Dad.' She shuffled her bottom backwards over the duvet and then patted the bed,
indicating for April to sit beside her.
'Actually, today has been better than I anticipated,' April replied, conscious that underneath the
veneer of being OK, Nancy was still grieving too, and she didn't want to upset her stepdaughter by
appearing to be 'getting over her father's death' too quickly. But deep down April knew that she
most likely would never really 'get over' Gray. Yes she'd learn to live without him, be happy again
perhaps, a different kind of happiness, she hoped, one day, but still . . .
'Good,' Nancy stated. 'You know, Dad would never have wanted you to be "moping" all over the
place.' She paused to do quote signs in the air and April winced. 'Especially on your birthday.' A short
silence followed. 'Um, sorry, not that you are,' Nancy added. 'Gosh, sorry, I didn't mean it like that,
you aren't . . . um, haven't been "moping" at all, in fact you've been amazingly strong and kind and
lovely as always to me and Freddie, putting everyone else before yourself. Sorry, me and my big
mouth. I really must engage my brain before opening my gob and just letting words blurt out.' Nancy
pulled a face and shook her head, making her fiery red hair swish around her shoulders. 'I just meant
that . . . well, you know how practical Dad was about stuff, being a scientist and all. I didn't mean to
be so insensitive, God no, but somehow it always comes out that way.'
'It's OK,' April replied. 'Like father like daughter, eh?' and she nudged Nancy with her elbow, before
both women exchanged glances and a smile.
'Hmm, I guess so.' Nancy pressed her hands together as if to break the moment and lift the mood,
buoy them both back up. 'I know! How about we watch an old film together? Mamma Mia, you love
that one.' April's smile widened. 'Whaaaat? What's so funny?' Nancy lifted her shoulders and pulled
a face.
'Mamma Mia!' April laughed. 'It's hardly an old film . . .'
'Hmm, weeeeell . . . it is to me. Or would you prefer to watch something really ancient, like Dirty
Dancing perhaps?'
'Or how about Some Like It Hot?' April couldn't resist, and Nancy creased her forehead.
'Sounds like filth to me.' Nancy folded her arms. 'April, you fox! Never had you down as a porn fan,'
she teased.
'Noooooo!' April protested, her cheeks flushing. 'Oh gosh no, nothing like that. It's a classic, starring
Marilyn Monroe. With Tony Curtis and Jack Lemmon – they dress up as women and—'
'Cross-dressing! Hmm, guess that could be cool.' Nancy raised her eyebrows.
'Hmm, it's a bit more than that,' April said.
'Well, I've never heard of it!'
'Ha! Now why doesn't that surprise me?' April gave her stepdaughter's thigh an affectionate pat.
'You know, I feel reeeeeally old now.' She shook her head and let out a long sigh.
'Oh don't be daft! You're still young. A million miles away from the menopause.' April shook her
head; trust Nancy to be so blunt. 'Tell you what . . . why don't I do your hair and make-up this
afternoon? I could do your nails too; we could have a girly makeover party. I'll get us some chocolate
and maybe a cheeky bottle of bubbles . . . what do you say?'
'That sounds lovely, are you sure though?' April said, surprised, as it wasn't really Nancy's thing.
'Yep. It's your birthday and I want to make it nice for you. And you love all that beauty and
pampering stuff.' A short silence followed. April swallowed, hard. And then Nancy added, 'Weell,'
she hesitated, 'you used to before Dad died, and I know it's hard, I really still miss him too, but he'd
want us to make an effort on your birthday and you made an effort on mine, even though I bet you
didn't really feel up to it.' She pulled herself off the bed and went in search of April's beauty
paraphernalia. She opened the top drawer of a chest. It was full of underwear. 'Sorry,' she said,
closing it again. 'Nail polish?'
'No problem,' April replied, 'it's in the basket on the shelf in the ensuite.' She paused and fiddled
with the belt of her dressing gown. 'And I say that a pamper afternoon is a very lovely idea, thank
you sweetheart.'
'Great!' Nancy chimed. 'But I'm sensing a big but!' She stopped moving and turned to look at April.
'It's just that I thought my hair looked OK! Why didn't you tell me before we went out for lunch?'
April pretended to admonish, but knew seriously that she hadn't really bothered with all of that s
ince Gray went, often wondering what was the point. Of course, she always made sure her hair was
brushed and that she looked presentable and had clean clothes on, that sort of thing (well . . .
underwear at least), but she had found it hard to muster up much enthusiasm for applying make-up
or painting her nails. To be honest, the last eighteen months had seen her operating as if on
autopilot, going through the motions really.
'April, your hair looks lovely. Honestly. I just thought it would be something nice to do for the rest of
your birthday.'
'Ahh, OK. Then thank you, and sorry, ignore me, I'm just being oversensitive. Come on, you grab the
chocolate and champagne and I'll sort out what we need up here,' April chivvied, seizing the
opportunity to busy herself and be in her preferred state.
'Perfect.' Nancy walked towards the door.
*TO FIND OUT WHAT HAPPENS NEXT HEAD TO http://blabberingaboutbooks.weebly.com/
TOMORROW FOR THE NEXT EXTRACT*
Thank you to the publishers, Harper, and to Alexandra Brown for visiting my blog today. My review will follow soon but I absolutely loved it!!