Today I am really pleased to welcome Elisabeth Carpenter to my blog with her debut novel, 99 Red Balloons.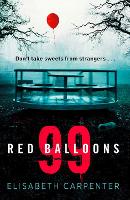 Two girls go missing, decades apart. What would you do if one was your daughter?When eight-year-old Grace goes missing from a sweetshop on the way home from school, her mother Emma is plunged into a nightmare. Her family rallies around, but as the police hunt begins, cracks begin to emerge. What are the secret emails sent between Emma's husband and her sister? Why does her mother take so long to join the search? And is Emma really as innocent as she seems? Meanwhile, ageing widow Maggie Taylor sees Grace's picture in the newspaper. It's a photograph that jolts her from the pain of her existence into a spiralling obsession with another girl - the first girl who disappeared... This is a gripping psychological thriller with a killer twist that will take your breath away.
Publisher:

HarperCollins Publishers
ISBN:

9780008223519
I really enjoyed this book, it is one of those that grabs the readers attention from page one and although it is a difficult subject, the abduction of a young girl, it kept my attention to the very last word. It is really well written and I found myself going through the raft of feelings along with the mother, grandmother and extended family and I was kept guessing to the very end where the twist was that last surprise that made it an exciting book to read.
I definitely recommend this book to all my blog readers. The author, Elisabeth Carpenter, has told me a little more about the setting for 99 Red Balloons and her ties to the country too. Enjoy ...........
I lived in Germany as a child but, unlike my character in 99 Red Balloons, I have nothing but great memories of living there. My dad was in the air force and was stationed at RAF Wildenrath between 1982 and January 1985. This was the time Nena's song was all over the radio stations. In the German version, however, it's '99 Luft Ballons' which means '99 Air Balloons'. We used to sing the chorus in German, not really knowing anything about the song itself.
Living on a British base felt safe as a child. We weren't, however, sheltered from German culture. On Sundays, everything closed – shops shut from 2pm on a Saturday and didn't open until Monday morning (supermarkets were totally different to UK supermarkets at that time, with non-food products being sold). Washing was not permitted to be hung out to dry on a Sunday and no one washed their cars. This meant family time was valued with get-togethers and barbeques.
Because Germany is so central in Europe, I took for granted the ability to visit other countries so easily. I thought it was something everyone did. We travelled to Holland, Belgium and Austria by car.
The weather was more extreme than in the UK: baking hot summers when we could visit the open-air swimming baths, while we could be knee-deep in snow in the winter. This meant we could take our sledges to the hill at the side of the house and give our parents some peace.
At school, we were permitted to wear what we wanted, though a uniform was available. The idea was that we lived a regimented life being part of the military, so – at school at least – everything was relaxed. We made bread from scratch, and butter from passing round a jar of full fat milk to shake.
My experiences in Germany were the opposite to those of my character in 99 Red Balloons. When this posting came to an end, we were quite pragmatic about leaving. Most RAF children are used to moving around, making new friends quickly. Before this we had lived in Scotland, so I had no memory of ever having lived in England. I remember one of my parents' friends giving me and my brother a pound note each to take with us.
When I came to England, however, my feelings were similar to those of the child in 99 Red Balloons. Most of the other children in my new class had been there since the start of their education. For my first day at school I wore a burgundy dress with a satin bow while everyone else was in their uniforms.
I'd love to go back to Germany, to travel down the River Rhine, to eat frites with mayonnaise squeezed from giant tubes, and re-visit places I remember. I will always have fond memories of Germany – but that might not be the case for the little girl in 99 Red Balloons …
Thank you Elisabeth Carpenter and Avon Books for inviting me to take part in the blog tour. I really enjoyed the book and look forward to hearing more about future books by Elisabeth.