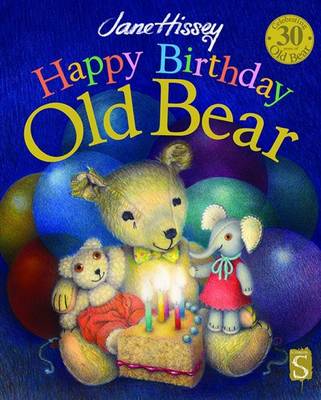 To celebrate the thirtieth anniversary of Old Bear and friends, Jane Hissey has created an entirely new adventure featuring the beloved characters, filled with the charm and beautiful illustrations for which she is acclaimed. The toys are getting things ready for Old Bear's birthday party, helped by their new friend, Elsie the elephant, who plans on giving him a painted umbrella as a gift. When they head into the garden, Elsie and her umbrella are blown away by a gust of wind and must be rescued!
Publisher:
Salariya Book Company Ltd
ISBN:

9781910706725
Whenever I pick up an Old Bear book by Jane Hissey it is as if I am transported back to childhood. I really enjoy reading the stories and seeing the lovable toybox characters who, along with Old Bear, are enjoying fun and friendship throughout. The characters are all toys that could be found in any child's toybox and, through Jane Hissey's beautiful illustrations are easily identifiable by children of all ages.
Old Bear stories are books that I enjoy giving to children aged 0 to ten years. The books make beautiful presents for births, christenings, birthdays or just because and can be shared at any time. Jane's beautiful illustrations are perfect for young children to look at and talk about with their peers or adults. They can be used to tell the story without reading the prose or be looked at while listening to Jane's fantastic story.
I really enjoyed this book, as with Jane's back catalogue Old Bear is a great character to share with young children and with this being a very important landmark publication I would love to share the love of Old Bear with all my blog followers.
From Sarah's Book Reviews I would like to wish Old Bear a very happy 30th anniversary.
Thank you to the publishers, Scribblers. for sending me the book to review and inviting me to be a part of the celebration blog tour.