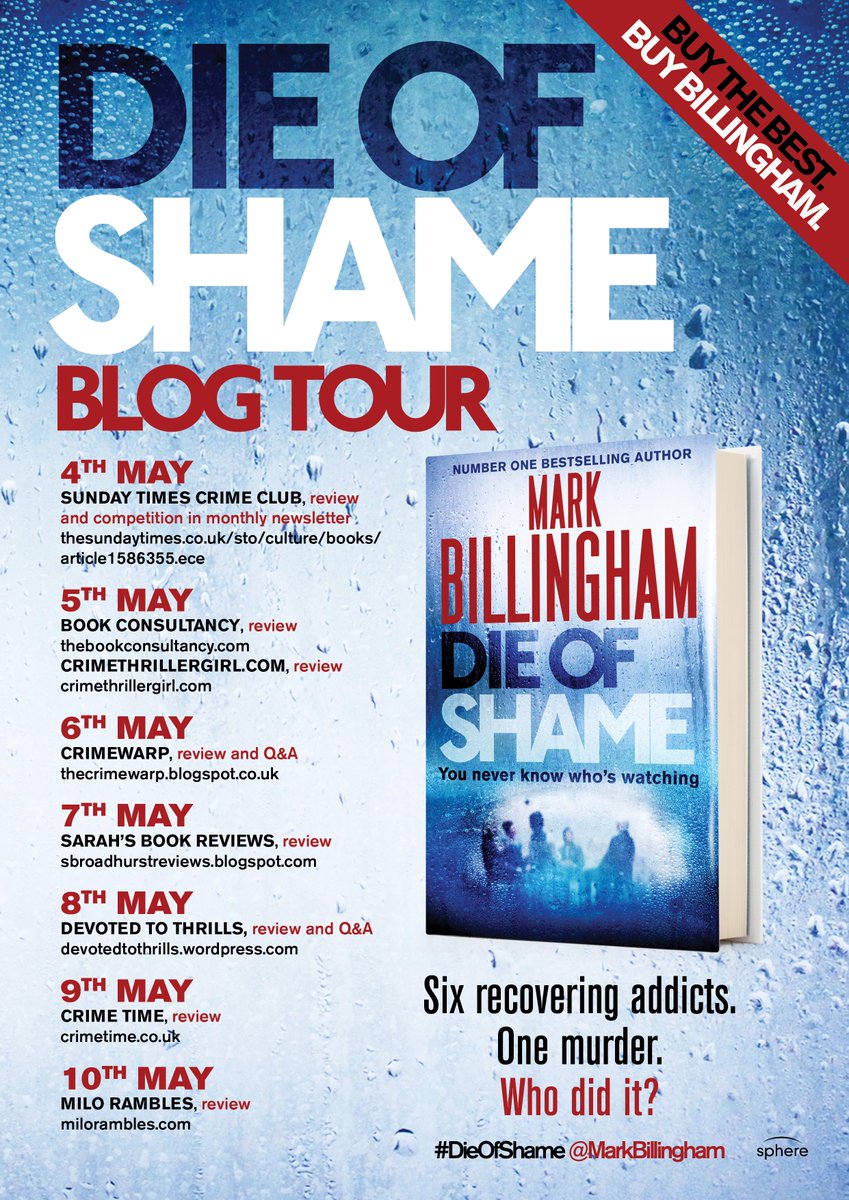 Full of betrayal, deceit and suspense, Die of Shame is the spectacular new book from number one bestseller Mark Billingham - author of Time of Death and In the Dark, both soon to be major BBC series. Every Monday evening, six people gather in a smart North London house to talk about addiction. There they share their deepest secrets: stories of lies, regret, and above all, shame. Then one of them is killed - and it's clear one of the circle was responsible. Detective Inspector Nicola Tanner quickly finds her investigation hampered by the strict confidentiality that binds these people and their therapist together. So what could be shameful enough to cost someone their life? And how do you find the truth when denial and deception are second nature to all of your suspects?
This is a standalone novel by Mark Billingham. I adore his popular Tom Thorne series of books and I was interested to see what Mark would do with a complete new cast of characters. What he has done is fantastic and I love the unusual setting of a support group for addicts. The support group is full of characters from all walks of life and within it there is a great relationship between its members and I imagine lots of curiosity but also secrecy within. It is a setting I haven't seen used before and, although I felt in places uncomfortable that I was spying into an emotive and trusting environment, where only the members are party to what is said in the room, I also thought it made a brilliant setting where any number of crimes could be committed.
I loved the style of book, with the murder investigation being worked, and interwoven with the events building up to the murder itself. The reader is able to follow the police investigation, which is told in real time, while being intertwined with recounts of the events leading up to the murder.
I love Mark's writing style and have devoured all of his Thorne books and still love the main man although I am hoping that we may see more of this new
DI Nicola Tanner in future books. Mark has a fantastic style where he is able to get wit and excitement into his books and having recently spent an evening with him at Chipping Norton Festival's famous Saturday night Quiz I can confirm that this is Mark's personality to a T!
I recommend this book to anyone who is looking for a new gritty police drama to try.
Thank you to the publishers, Little,Brown for sending me the book to review and inviting me onto this tour,